Now that winter has arrived, we'd like to take some time to reflect upon the Autumn months. Fall is often referred to as the season of change and this year was no exception for NextChapter. From hiring new staff to releasing new features to the acquisition; these last few months had a lot of new. Keep reading to see what happened this Fall at NextChapter.
Moved Offices
We got a new home! NextChapter moved down High Street to The Sutton Building. We traded up to a corner office that is both spacious and cozy. With more space, we now have more room to grow, collaborate and make our product the best it can be!
The Acquisition
On September 16th, 2019 NextChapter was acquired by Fastcase, a leading legal publisher and research platform. We've joined forces to bring about more innovation into the practice of law. It's been just a few months since NextChapter joined the Fastcase family, and we're already making strides. Thank you to all of our users and supporters for helping NextChapter get to this point!
Celebrated the Acquisition
The NextChapter team ventured to D.C. to celebrate the acquisition with our new Fastcase family. During the trip, we met the entire Fastcase team, as well as explored the nation's capital. The highlight of the trip was getting to know Fastcase, but we also enjoyed walking around the Smithsonian Museums and taking a Duck Tour!
The NextChapter team celebrated the acquisition a little closer to home at Lincoln Social Rooftop. We invited friends and family to celebrate this new beginning with us!
New Team Members
We're growing! During the Autumn months, NextChapter added four new bright minds to the Sales and Customer Success teams. Alex Seymour and Tim Shadoan joined NextChapter as Account Specialists, while Kelley Oldiges and Spencer Thomakos are our newest Customer Success Specialists. Please join us in welcoming these amazing young professionals to our team!
Fall '19 Release
It wouldn't be Fall without an impressive quarterly release! This Autumn, we introduced a suite of new features and updates that help law firms become more efficient and productive. Visit the Fall '19 Release Notes for a comprehensive guide of our most recent release, which included New versions of MyChapter Client Portal and NextMessage Client Texting, Attorney Fee Reports, Chapter 12 Forms and more!
Clio Con
NextChapter Founder & Managing Director Janine Sickmeyer, alongside our Director of Operations Mandy Ballinger, attended the Clio Cloud Conference in sunny San Diego. Clio Cloud 9 was packed with insightful keynotes and amazing conversations with fellow legal techies. While at the conference, we even met up with our Fastcase family.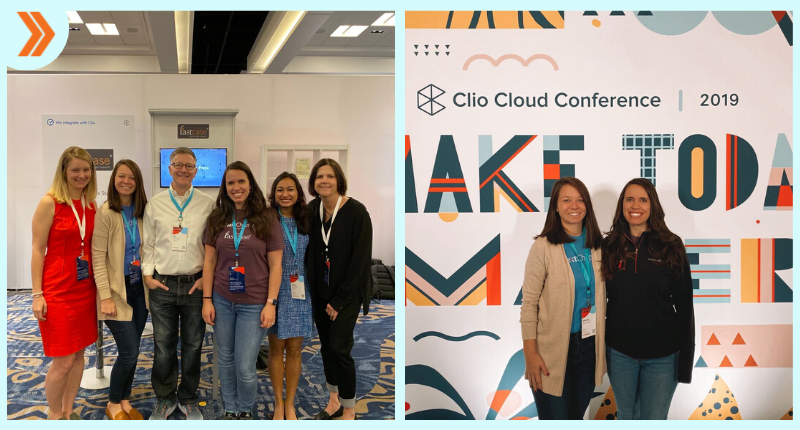 Launched Modern Attorney Directory & Paralegals as a Service
November was the month of exciting product announcements! First seen in our Fall Release, the Modern Attorney directory was launched on its own website, ModernAttorney.com. We created the directory to help attorneys grow their practice and get more clients. Modern Attorney Directory stands out from the rest because it gives attorneys the chance to improve their online presence and showcase their offerings in a positive way. Interested in becoming a member? Sign up here.
We've rebranded our beloved Virtual Paralegal Support to Paralegals as a Service to better represent what a NextChapter paralegal will do for you. Hire a paralegal on a per-case basis and they'll contact the client on your behalf, prepare petitions and even file the case with the court. Learn more about how NextChapter is taking an on-demand approach with Paralegals as a Service.
2020 Planning Meeting
To end Autumn, NextChapter took part in Fastcase's 2020 Planning Meeting. The entire team listened to future plans for the year ahead, and NextChapter's Managing Director Janine Sickmeyer presented our plans for 2020. NextChapter has some amazing things in store for next year!
And that's a wrap; another exciting Fall season for NextChapter! These last few months involved tons of new features and a number of exciting changes. Make sure to keep up with your inbox and follow along with our blog to see what's coming next.