This Fall, the NextChapter team is thrilled to present our most impressive release to date! We have revolutionary new features to share and plenty of updates, including the recent acquisition by Fastcase, a leading legal publisher.
This release is all about making your law firm more efficient and productive, helping you get more clients and retaining them. Let's dive into all these amazing features!
Modern Attorney Directory
We're now offering a way for attorneys to easily connect with clients seeking legal services in our Modern Attorney Directory. You can gain new clients and grow your practice immediately by joining the directory today.
Members of the Modern Attorney Directory will create an attorney profile, which includes your service offerings, personality traits and interests, and credentials. When a prospective client wants to hire you, they send their contact information and any applicable details about their legal situation through the system. You can then get in contact with them right away and select to import the case details directly into NextChapter to begin the case. The benefit of this profile is to show your personality! Millennial clients want to meet with an attorney who works the way they live. Do you meet in coffee shops? Over video conferencing? Do you accept Venmo or Apple Pay? Allow prospective clients a way to get to know you by adding photos, a short personality bio, and even some of the hardest questions like cats vs dogs.
The bottom line: The Modern Attorney Directory instantly connects you with clients in need of legal services. You'll be able to find leads and increase your practice's revenue without any extra work.
Feature Enhancements
While this release has a lot of the new, we didn't forget about the features you know and love: NextMessage Client Texting and MyChapter Client Portal. Both of these products have been out in the wild for some time now and over the years, we've collected tons of user feedback. We're excited to present the new versions of Client Portal and Client Texting that both incorporate suggestions from attorneys and paralegals who have used them first-hand.
NextMessage Client Texting
Communicate even better with your clients about their bankruptcy case with this new round of updates.
Send Messages Based on the Chapter for Filing: Tailor your messages based on the bankruptcy case type to give reminders specific to the chapter of bankruptcy. No bankruptcy case is made equal and there are key differences between each chapter. For example, confirmation hearings only apply to Chapter 13 cases and with this new update, you can opt to only send the reminder to Chapter 13 clients, eliminating any unnecessary confusion.
New Recipe Options:
Document Checklists: Get client documents promptly with automated reminders. Pulling from a case's Document Checklist, NextMessage allows you to create a text recipe that reminds clients which documents they need to send over to your firm. With a handy reminder right in their texts, clients are more likely to provide the documents you need to begin preparing the petition, making the entire process faster and smoother.

Plan Payments: Better assist your Chapter 13 clients through post-confirmation with plan payment text reminders. Just set up a recipe and NextChapter will automatically send a text each month based on the Chapter 13 Plan prompting the client to make their payment with the court.

Hearings: Hearing reminder texts are now more specific. Insert the Date & Time merge field for your client to reference so they'll always be in-the-know.
CC Users for Email Notifications: Allow multiple members of the firm to receive notifications when the client replies. In the firm settings, default CC any user and they'll get email notifications that include the text the client sends.
MyChapter Client Portal
We've enhanced and added brand new features to our bankruptcy Client Portal, making it more user-friendly and comprehensive for attorneys and their clients.
For the Client
Better Navigation for Mobile and Desktop: Many clients don't have access to a desktop computer or laptop, which means they rely heavily on their smartphones to complete the Client Portal. We've added collapsible menus for mobile, allowing your clients to better navigate through the sections and enter in their information faster. The expenses section of the desktop version of MyChapter was also optimized to make sure clients fully complete the section.

Save Pop-Up Window: We'll alert the debtor if they leave a section without hitting the save button to make sure the portal is more complete for your review.

View Claims: When asked to provide their creditors, the client can see which claims were already entered into their case (or imported with NextChapter's Credit Report Integration). This ensures that there won't be duplicate creditors for you to clean up and consolidate.

More Client Entry: We've added more fields into the portal for your client to fill in. Now, clients can input more income information, such as:

One Pay Advice with Deductions

Year-to-Date Income Figures

Gross Monthly Income

Client Documents: The Client Portal's document upload is now optimized to allow debtors to upload multiple documents at once, making their user experience much friendlier. And if you realize a debtor left out a document after you already imported their entry into their case in NextChapter, debtors can still upload said documents with MyChapter. Once the case is imported, you can still send the Client Portal over to the client and only the document upload section will appear with the list of documents still needed.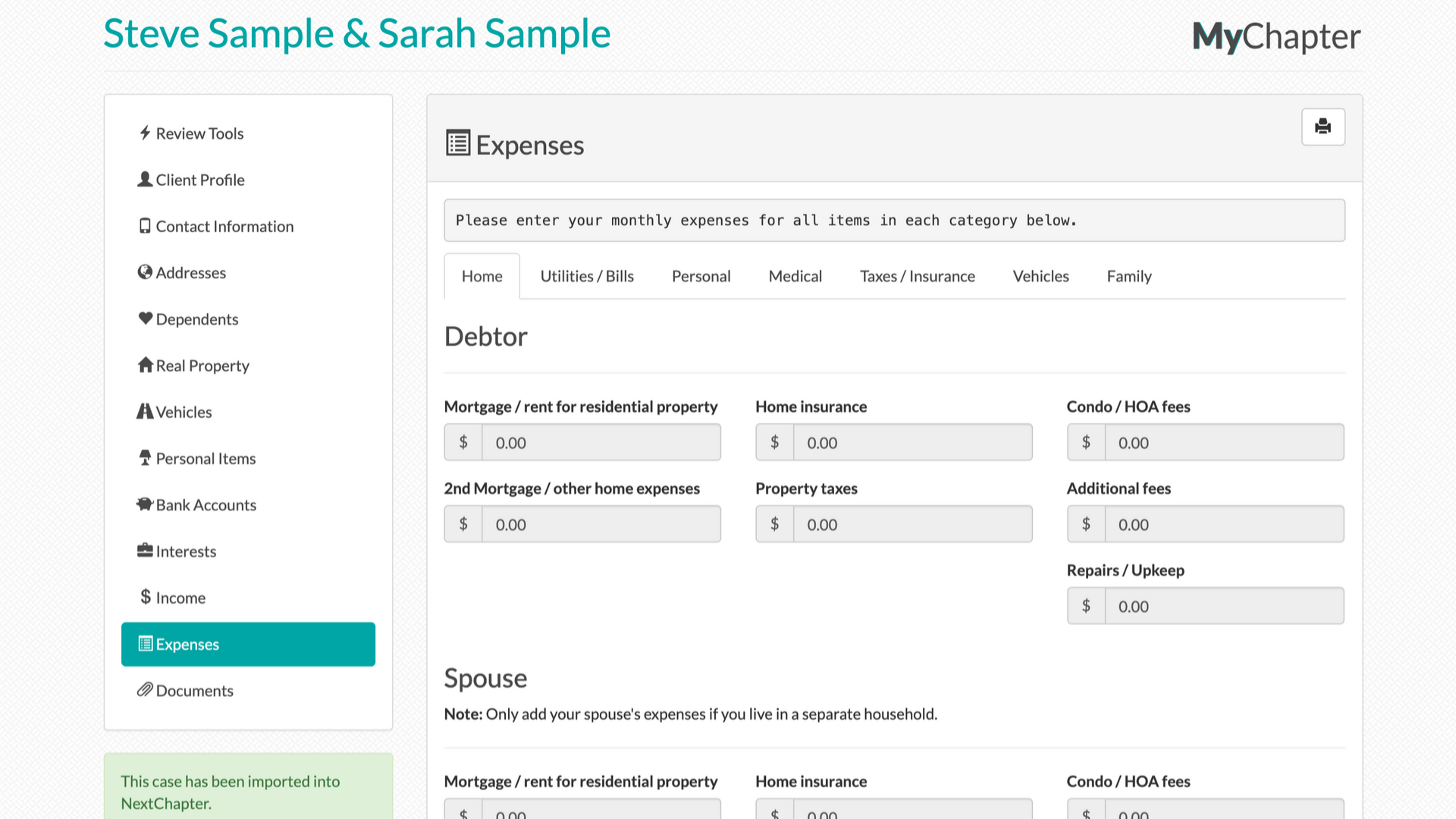 For the Attorney
More Attachments: MyChapter now streamlines document signings. When you're crafting the client portal invite email, you have the option to attach any documents necessary to be sent along with the invite. Include anything you'd like your debtor to see, such as further instructions and documents that need to be signed and returned (like the fee agreement). This feature is particularly useful because the client can easily return the document with signatures by uploading it to the portal. And to take it one step further, those documents can be transferred to the Client Document Storage in NextChapter. We also copy you on the email invite we send to the debtor so you can confirm the email was sent.

Login Link: A unique login link for each debtor is now accessible for the attorney to copy and send along to their client in any email. This is great for clients who lost the email invite and just need the link quickly.

Resend Invite: Now when resending the MyChapter Invite to the debtor, you can include the documents still needed (this list is pulled from the document checklist in the case). With this constant reminder to debtors, you'll be sure to get all the documents needed to finish cases promptly.
Mobile Application V.2
In our last release, NextChapter introduced the first iPhone app for bankruptcy attorneys to prepare and file their cases. We've received some feedback, added new features and optimized the entire mobile application.
Attorney Fee Receipt PDF: Access the attorney fee receipt for clients no matter on-the-go. This is especially useful for attorneys who just can't get to their laptop when the client asks about fees or payments.
New Features
Chapter 12 Forms & Filing Capabilities
You can now prepare Chapter 12 bankruptcy cases with NextChapter. We've worked with attorneys who regularly file Chapter 12 bankruptcies to add the workflows into the application. Currently, you can only prepare Chapter 12 Forms through NextChapter (ECF filing capabilities are coming soon!)
Debt Limit Alerts to Claims Sections
Ensure you're meeting Debt Relief requirements for Chapter 13 Plans with our new Debt Limit Alerts. If the balance in a claim is higher than what the law allows, we'll let you know so you can make adjustments accordingly.
Attorney Fee Report
All Pro+ subscribers are now able to generate an attorney fee report for their entire firm to see amounts owed and paid, along with tracking marketing sources and more. You can export this report and use it to make strategic business decisions for your firm.
Download Templates
Now when you create your filing templates in the Review & File and the Download & Print sections, you can download that template. This is especially useful for reviewing documents at client meetings. If you always review a certain set of forms, create a template in NextChapter, download it and print it out for the meeting. Easily access the forms you need for each client with template
More Enhancements
Download History Update
Navigating through your download history doesn't have to be a guessing game. We automatically rename your documents more specifically so they're easier to identify and indicate which documents have been filed, keeping your documents organized and properly labeled.
Enhanced Common Creditor Search
Whenever you search for Common Creditors in NextChapter, we now display the creditor's address below their name. Creditors have multiple addresses for different divisions and we've added this feature so you can select the right creditor quickly when inputting claims.
Business Case Updates
Last release, we added many features that streamline the business bankruptcy case filing process, such as Client Prefixes and easy attachment options. We've added even more enhancements to make filing complex business bankruptcy cases easier in NextChapter.
More Local Forms, Chapter 13 Plans & Filing Options!
We're always adding more local forms plans, and post-petition filing options into NextChapter to make the filing process even more streamlined for our users. Take a look at the list below to see what new:
14 Local Forms

Chapter 13 Plans: NVB & WVNB

New Post-Petition Filing Capabilities: TXNB, LAWB