The NextChapter team is delighted to announce our biggest release to date: Winter '18 Release.
We listened to your feedback and suggestions and brought it all to life in this major release! As you look through the release notes you'll see that we touched almost every part of the app to make it a better system for you and your staff. We can't wait to hear what you think so please share your thoughts with us!
To show you everything in this new release, we're hosting a free live webinar Friday, Jan 26 at 3pm EST. Register now!
Now let's take a look at the Release Notes and learn more about the new features and enhancements. Without further ado...
1. SOFA Review
To help save time in the case preparation process, NextChapter asks the questions for the Statement of Financial Affairs throughout the application. A new SOFA review section has been added so that you can quickly and easily make sure all questions were properly answered and you can easily revisit any section to add or update new information.
2. More Sophisticated Asset & Exemption Options
NextChapter did a major overhaul to the way assets and exemptions are saved in each case to allow for more flexibility. Now you have the option to save all items in each category at once or you can save individual items with separate individual exemptions to each item. You can also separate out the exemptions for Debtor 1 and Debtor 2 in joint cases and the exemptions will be separated into two separate Schedule C forms for each debtor.
We've also added a new search option when selecting the exemption so that you can start typing the exemption name and quickly add the exemption you're looking for.

The final addition to the exemptions section is for California! You can now select whether you'd like to use the 703 or 704 exemptions when creating a case.
3. ECF Integration for Business Cases
NextChapter is now integrated with 52 of the courts for business case filings! Check the article in our Help Center to see if NextChapter is ready to electronically file to your court with the click of a button.
4. Updates for Community Property States
Enhancements have been made for cases being filed in community property so that all assets and debts default to being set as community property for joint or married debtors.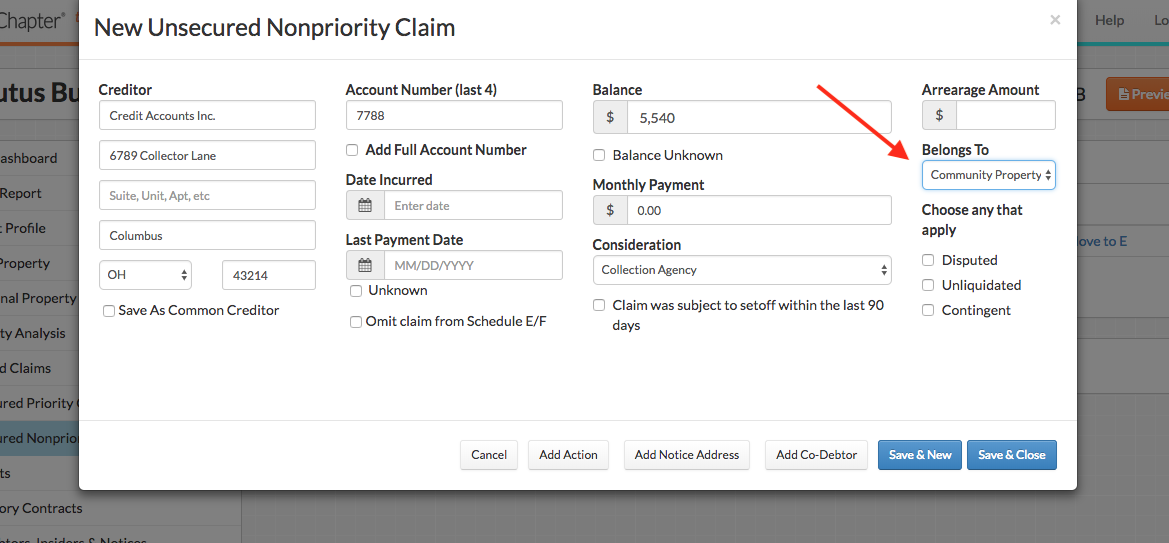 5. Common Codebtor
Common codebtors can now be saved on a per-cases basis making it easy to add the same codebtor to multiple debts. Simply add the codebtor's information once and check the box to save as a common codebtor, and then the codebtor can be saved drop-down menu on any other claim.
6. Common Attorney
The attorney's information can now be saved like a common creditor, making it super easy to add the attorney to each case if they should be listed in the Statement of Financial Affairs. The attorney can be added as a common attorney by selecting the box to Save as a Common Creditor when adding new fees to a case. Then the next time you add the attorney, you can start typing the attorney's name and the rest of his or her information will auto populate for you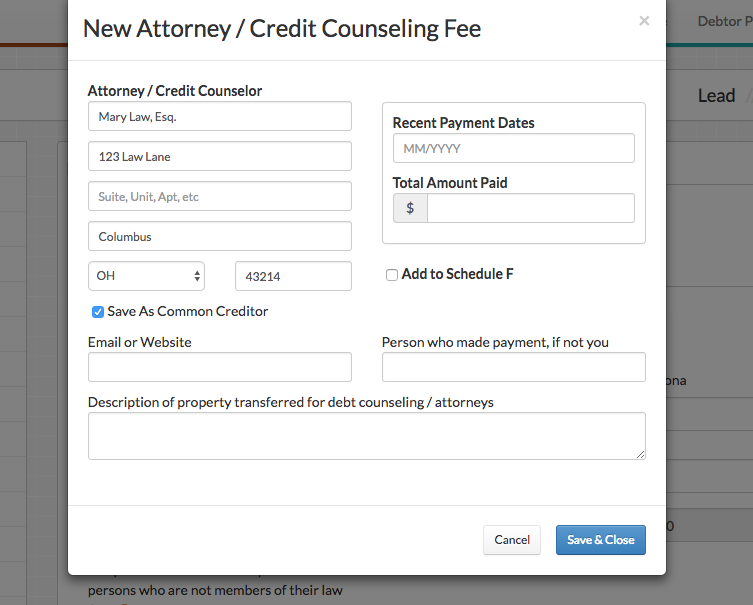 7. Option to Print Comments, Document Checklists and the Property Analysis from each case.
In each case, you can now click on the printer icon next to comments, documents checklists and the property analysis section to easily generate a PDF for each section which can be saved or printed.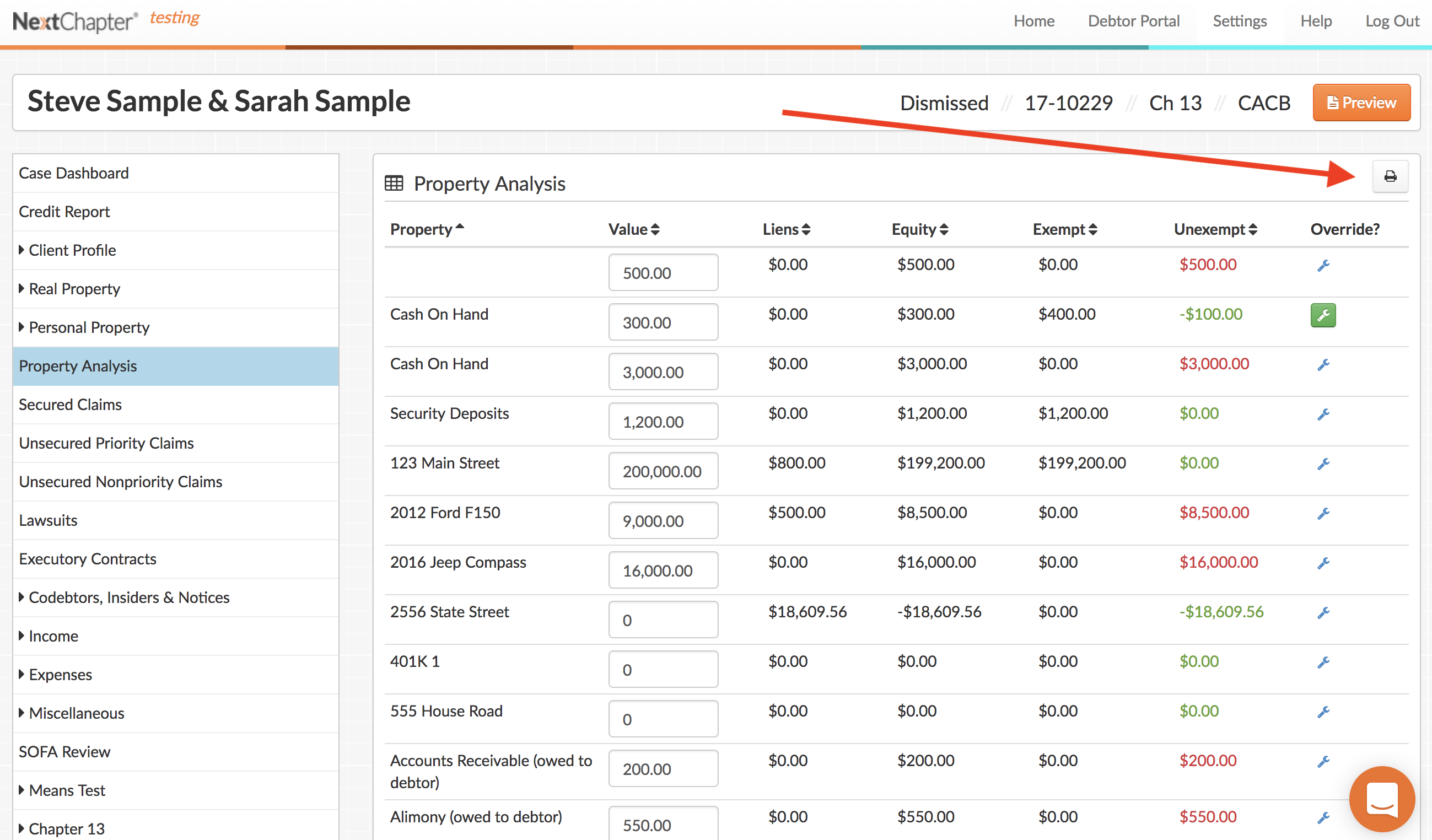 8. Option to turn off Two-Factor Authentication
Two-Factor Authentication is an extra layer of security that requires a unique verification code to log in. When you sign in to your account a verification code will be sent to your email. Each user can turn off this security feature from the settings under "My User Profile."
9. Firm Dashboard Enhancements
The Firm Dashboard in NextChapter has a new look! Some notable updates:

- Easily search all cases from the Recent Case search tool.
- Sort and view cases by type, name, case number and district.
- From the expanded case view, you can also sort cases by status and by the last updated.
- Easily duplicate cases with the click of a button.
- Access your cases quickly by clicking on the case name from the Recent Case list.
- Added Discharged & Dismissed to case status options
10. Firm Calendar Updates
The new Firm Calendar has monthly, weekly daily and list view options and easy access to add new dates. Firms on the Pro and Whoa plans can also sync the firm calendar with their Google, iCalendar or Outlook calendars.

11. Even More Chapter 13 Plans
With all the Chapter 13 form changes at the end of the year, came a lot of work to update the plans in NextChapter but since the last release, we added over 40 new Chapter 13 Plans! Firms who purchase the Chapter 13 Plan Package get access to our Chapter 13 Calculator, 13 Time Tracker and Receipt Printout as well as the Chapter 13 Form Plan for their district. Check out this list of plans that are already integrated in NextChapter. If your plan is not on this list, the plan will be added into NextChapter within 30 days of purchasing the Chapter 13 Plan Package.
12. Enhancements & User Suggestions
In addition to all the major features, we made several enhancements and fixes based on user feedback. A non-exhaustive list:
- Performance Enhancements for Common Creditors
- Option to Download debtor.txt for CAEB
- ECF Filing & Fee Sheet for KSB
- Client Document Storage Enhancements
- Business Case PDF Updates to expand field lengths
- Enhanced comments section in Case Dashboard
- Court specific updates to creditor matrices
- New help tutorials and walkthroughs when starting a case
- Enter claims quicker with the new "Save & New" button
- Omit codebtors from creditor matrix
- View more information on Lawsuits table
- Updates to creditor data information
- Ability to omit creditors from 20 Largest in business cases
- Quick edit link from expenses > car payments to review claim
- More automated data input from prior questions
---
Pro and Whoa Plan Features
1. Calendar Integration with Google, Outlook and iCal.
As mentioned above, all Pro & Whoa subscribers can sync their firm calendar to their personal calendar one-way to make sure all events added from NextChapter will appear on their own calendar as well. The next step to this will be automatically adding the hearing dates from your PACER notices to the calendar.
2. NextChapter Notices Inbox
As a Pro & Whoa customer, you already receive all PACER notices from the court placed into the case in NextChapter. But now, with the new NextChapter Notices Inbox, you can filter, sort and view notices directly from the Firm Dashboard.
3. Faster Automated Notices
Not only are we updating the way in which we display and organize your NextChapter Notices, we also sped up the saving time by 60% allowing you to recieve and review your notices in lightning speed! We are rolling this new faster saving feature out by user so everyone should have it within the next couple weeks.
4. Chapter 7 Automatic Time Tracker
Gone are the days of jotting down your time on a legal pad. NextChapter makes it easy for you to keep track of time spent on a case with the new Automatic Time Tracking feature for all Chapter 7 cases. You'll find the time tracker in the case dashboard next to "Fees". Chapter 13 Cases have this feature within the Chapter 13 Package.
---
MyChapter Updates
You can now send your clients back to MyChapter to add any missing information or to make any corrections as needed, prior to the case being imported into NextChapter. When you send MyChapter back to your client, you'll be able to include a message with instructions which will be emailed directly to your client along with a link to reopen their case in MyChapter.
Want to try MyChapter out before purchasing? You can now turn on a free 24 hour trial of MyChapter! Just click on Debtor Portal in the top menu or from your firm settings and click to activate your free 24 hour trial.
---
Whew! 😅 What a list! We couldn't be more proud of all the new developments and hope you are blown away with this release.
Next up on the product roadmap: Hearing Scheduler, Client text notifications, more MyChapter updates, and the long awaited Custom Doc Creator!
To learn about these new features, sign up for our Customer Success webinars, chat with us in the app or send us an email to hello@nextchapterbk.com. We are always happy to help! And if you have an idea for a feature that would make your filing easier, please send us your suggestions so we can keep improving NextChapter.
If you're not a current user, SIGN UP to get started with NextChapter and see what everyone is talking about.