Fall '20 release is here! Our team has been hard at work to bring you new features and updates in NextChapter. Keep reading to find out more about these updates and how they can help you grow your law firm.
Highly Anticipated Features
Bankruptcy Client Portal in Spanish
MyChapter Client Portal now has a Spanish option to offer even more accessibility and accommodations for our users and their Spanish speaking clients. This new offering improves the legal process for firms who take clients who speak Spanish as their first language or prefer Spanish over English.
MyChapter makes it fast and easy for a law firm to collect client information and import it into each case in NextChapter. All you have to do is check a box to send the portal in Spanish, and your clients will receive a link to the client portal with a custom welcome message in Spanish. The Spanish portal allows clients to understand fully what your firm needs to file the bankruptcy petition so that they can answer everything completely. From there, a member of your team will translate the entry and import into NextChapter, saving hours of time on paperwork and eliminating confusion for Spanish speaking clients!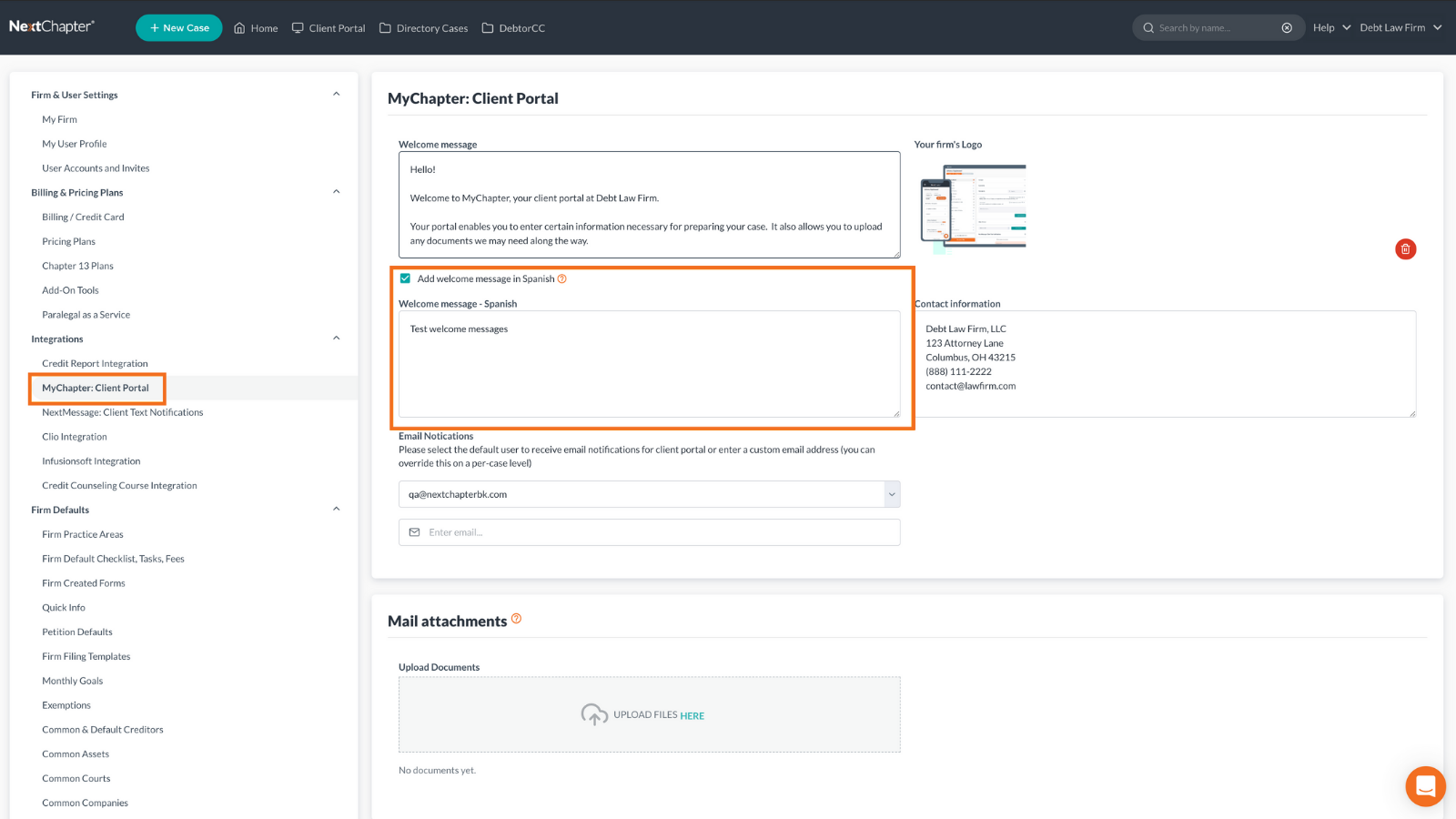 Doc Creator Version 2
In our Summer release, we launched our new document automation tool for law firms. Over the last few months, we've been working with attorneys to improve this feature. Now, attorneys can benefit even more from automating document creation with the Doc Creator.
The tool makes it simple to create a template that can be used again and again, and autofill client information whenever generating a file for any case. This helps you avoid lots of manual data entry.
Version 2 of the Doc Creator includes many new improvements, including:
Improved formatting when importing existing templates

Copy and paste option to create your firm templates

Updates to make the editor easier to use, like a preview button to see the formatting before you create a document, table options, and better dragging and dropping

No more text boxes, now you can type anywhere on the document

Document examples to help you get the hang of the editor
Start using the Doc Creator with a 7 day free trial to experience all that it has to offer your firm.
Modern Attorney Website Updates
We've made some exciting updates to the Modern Attorney website that improve the process of finding an attorney. Now, prospects have even more options for browsing for attorneys, making it easier for them to hire the right lawyer for their situation.
Browse by State: Using an interactive map, clients click on their state and are taken to a new page that includes a map and overview of attorneys in their area by location.
Browse by Practice Area: Users can also use Modern Attorney to learn more about the legal practice area that they need assistance with. Each area of the law has a dedicated page and users can view FAQs and common scenarios for getting legal help for their situation. On the practice area page prospects can enter in their zip code to locate attorneys in their area.
Search Page Updates: While they're browsing for attorneys, users can read practice area information on the page to further aid them in their search.
All of these new additions make the Modern Attorney Directory more searchable online, meaning your profile will be even more visible to prospective clients. Claim your directory listing here to stand out from other attorneys in your area.
Dynamic Forms
We're introducing dynamic forms to NextChapter's bankruptcy software, which help you submit a more organized bankruptcy packet to the court. Dynamic forms let you list all of the client's data for a given section, as opposed to cutting data off and including it as an attachment because there aren't enough lines or space. Now, the information won't get tacked down to a continuation page, and will instead be on the form itself. Another benefit of dynamic forms is that they collapse so the bankruptcy forms don't have any blank space, which can reduce the number of pages a case has significantly.
Here is a list of the following dynamic forms we've added to NextChapter this release, as highly requested by our users!
Schedule A/B

Schedule C

Schedule D

Schedule E/F

Schedule G

Schedule H

Statement of Financial Affairs (SOFA)
New Enhancements
NextMessage Document Reminder Recipe
With this new update, the NextMessage document reminder recipe continues to send even after a case has been filed if there are unchecked items in the document checklist and if the message hasn't been sent the set number of times.
Time Tracker for Business Cases
Another upgrade of this release is to the time tracker. This case management tool helps you track your hours spent on each case so you can get a picture of where you're spending most of your time. You can filter tracked time based on case and communicate your billable hours to clients. This tool is now available for all business cases.
Auto-Calculate the Federal Wildcard Exemption
In some bankruptcy cases, you might use the Federal Wildcard Exemption to save a debtor's personal property that would otherwise not be exempt. According to the bankruptcy code, you can use the Federal Wildcard Exemption to protect $1,325 of personal property (plus up to $12,575 of the Homestead Exemption that is unused). Now, when you choose to use the Wildcard Exemption on any personal property item in NextChapter, we will automatically calculate and show the combined remaining balance for you.
Resend DebtorCC Invites to Clients
In our Summer '20 release, we introduced our new integration with DebtorCC. This partnership helps debtors fulfill their credit counseling requirements and imports the certificate and date of completion into NextChapter. Create an account in DebtorCC and link it to NextChapter, and send customized messages to clients when inviting them to take their courses. You can track their progress and follow up when necessary. Now, attorneys can resend invites to clients when they haven't responded or need a reminder.
Security Audit and Improvements
NextChapter's software was built to protect you and your client's data from the very beginning. With safeguards, vulnerability scans, and more NextChapter is dedicated to keeping your data safe. Over the last few months, we've taken our bank-grade security a step further with an audit and several improvements to our general platform that allows for stronger security measures that protect attorney and client data.
Even More Options
Option to Designate Deceased Debtors: Now you can choose to mark a debtor as deceased in NextChapter.

If one of the debtors is now deceased in a case that your firm is handling, you can now choose to mark them as so in NextChapter. This is helpful when downloading the forms post-petition such as for amendments. The most likely scenario for this would be in a Chapter 13 case which can last up to 5 years. If both debtors file, one passes and then amendments are needed, this allows the attorney to update easily so that they don't have to manually remove the deceased debtor's electronic signatures.

Debtor Addresses in All Case reports:
At any time, you can view all of your cases in NextChapter by choosing to "View All" on the case dashboard. This full case list allows you to see all cases in a nutshell and access important information about your clients instantly. Functions such as search, filters, columns let you customize the list just for your firm. Now, you will see debtor addresses in the all cases list. This is especially helpful when you export the list and choose to send your clients mail. Now you don't have to manually compile addresses because NextChapter compiles the data for you.
Forms and Plans
We're continuously adding forms and plans to NextChapter to improve your workflows. Find out what we've added below:
3+ Local Forms

OHSB Ch 13 Disclosure (Form 2016-1b)

LAWB - Disclosure for Fixed Fee Agreement

CACB - Verification of Master Mailing List of Creditors

You can now view a comprehensive list of all local forms that will autocomplete using case information and data from NextChapter! Find the full list by district here.

Chapter 13 Plan: DEB
Coming Soon
That's not all! We're rolling out more new features and updates in the coming months. Take a look at what we have in store:
MyChapter Updated UI

MyChapter SOFA Questions
Webinar
On Thursday, November 5th at 11:00 AM ET the NextChapter team is giving you a firsthand look at the Fall' 20 Release. See our newest enhancements in action, including version 2 of the Doc Creator, MyChapter updates, and more! Register here to save your spot.