We're so excited to share our Spring '21 Release that includes new enhancements and features! Our team continues to make it easier to integrate our software and streamline your modern practice. Here's what you need to know about what's new.
Highly Anticipated Features:
NextChapter Payments V.2:
Introduced in our Winter '21 Release, NextChapter Payments makes it easy to send invoices and collect client payments. We continue to improve NextChapter Payments to help you get compensated quickly and effectively, and to make the process easier on your clients. Here is what's new with V.2:
MyChapter Payments is a new client-facing option in the client portal, where clients can view invoices, make payments using ACH or debit card, and even create their own payment plans. When you are creating an invoice for the client in NextChapter, all you have to do is check a box to send them an invite to pay on the Payment Portal. If you already use our Client Portal for intake, you can also invite them to fill out the questionnaire on the portal at the same time!
More payment plan customization options are now live, like the ability for you or your client to create custom payment plans, adding flexibility for those without predictable paydays. You can now also customize the disclaimer about using a personal credit card to pay for an upcoming filing, which clients will see when using the portal.
Now if a client stops by to drop off a check or pay in cash, you can record it in NextChapter Payments.

We've also integrated NextChapter Payments and the Attorney Fee Report so that you can more accurately link billing and payments, so everything is seamless.
Ready to get started? Find out how you can start saving time and energy and increasing client satisfaction today with NextChapter Payments.
Note: If you do not have MyChapter Client Portal added to your account, your law firm and clients can still utilize the payments feature!
Even More Enhancements & Features
Clio Refactoring: We've improved how our Clio integration syncs to streamline data transfer. Now, we will sync your data once a day, and you can manually sync it one additional time per day.

Wall-Off Feature: Our new wall-off feature is a life-saver for large firms with multiple users. Simply toggle on the wall-off feature in your settings and assign attorneys and paralegals to specific cases in the case dashboard. Then users will only be able to view and work on the specific cases they are assigned to, protecting your client's data and streamlining your team's workflows.
Post Petition Filing Options:
New Forms & Plans:
We've also added even more local forms and new Chapter 13 plans to our software to help meet all your bankruptcy needs. Here is a full list of what was added:
Chapter 13 Plan:

Florida Northern

Hawaii (Revised April 2021)

New Mexico (Revised May 2021)

By District: Local Forms

Virginia Eastern: Attorney Fee Disclosure (Revised)

Ohio Southern: LBR 2016-1(b) (Revised)

Florida Southern: Declaration Regarding Payment Advices (Revised)

Indiana Northern: Verification of Creditor List (Revised)

All Districts: Corporate Ownership

Michigan Eastern: Cover Sheet for Amendments (Revised)
You can view a list of all autocompleting local forms currently available in NextChapter here.
Coming soon:
Mailing Integration powered by Key Dynamics
Launching within the next few days is our mailing integration with Key Dynamics! Instead of manually mailing out post-filing case updates, like change of address, to each creditor, you can request mailing directly in NextChapter. Attach documents from client document storage, by uploading them, or selecting amended case documents. Then, select the creditor matrix from the courts or in NextChapter, edit creditors or addresses if needed, and set your mailing preferences (rush service is available). Key Dynamics will handle all the mailing for you and you'll receive an order summary and certificate when the job is completed. Stay tuned for more info about this product's launch.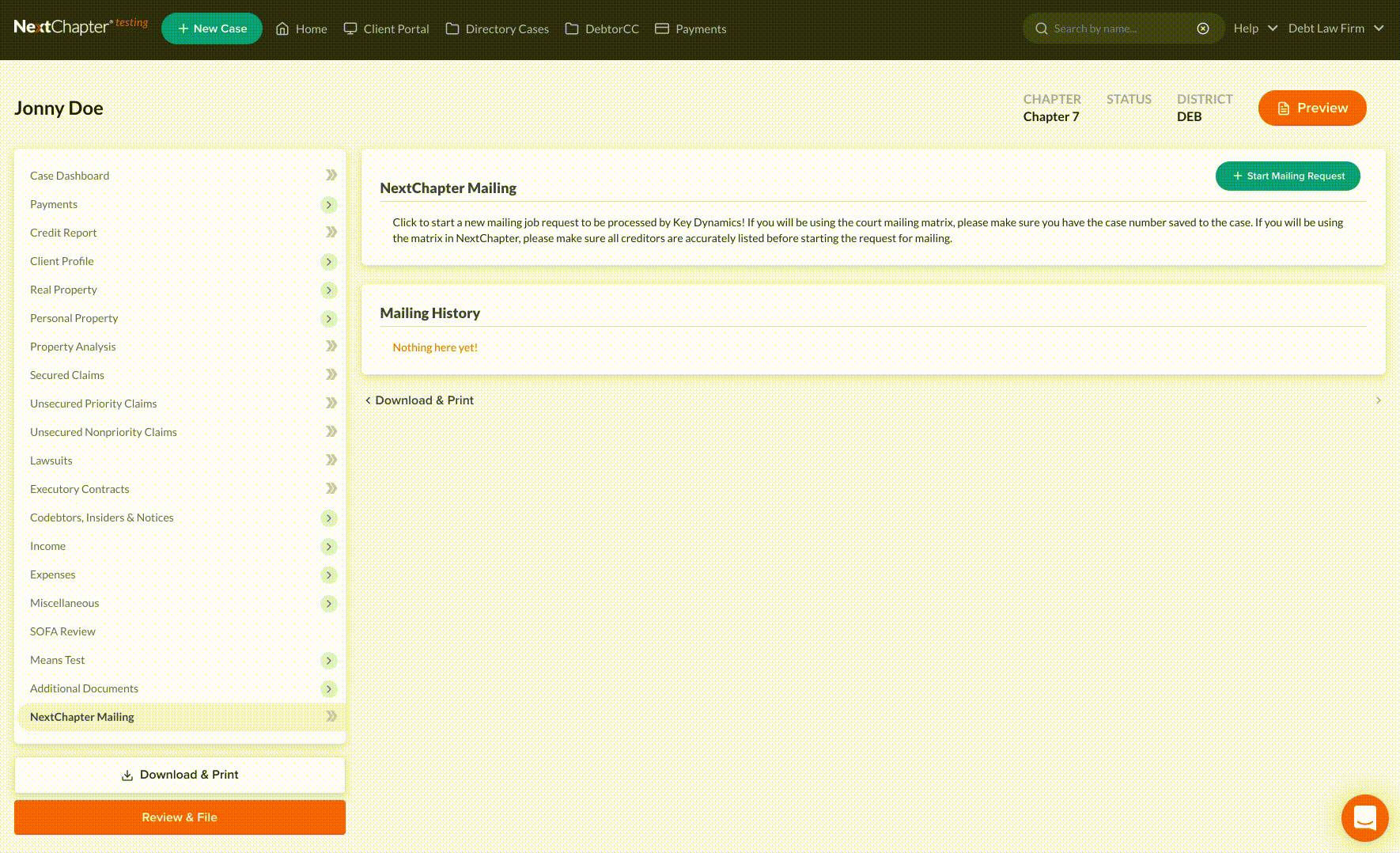 Release Webinar:
Ready to see these new features for yourself? We're ready to show you in an upcoming webinar all about the Spring '21 Release! This webinar will be held on June 2, 2021, at 2 pm ET. Save your spot today to see all of these amazing updates in action. Our team will also be available on the call to answer any questions.